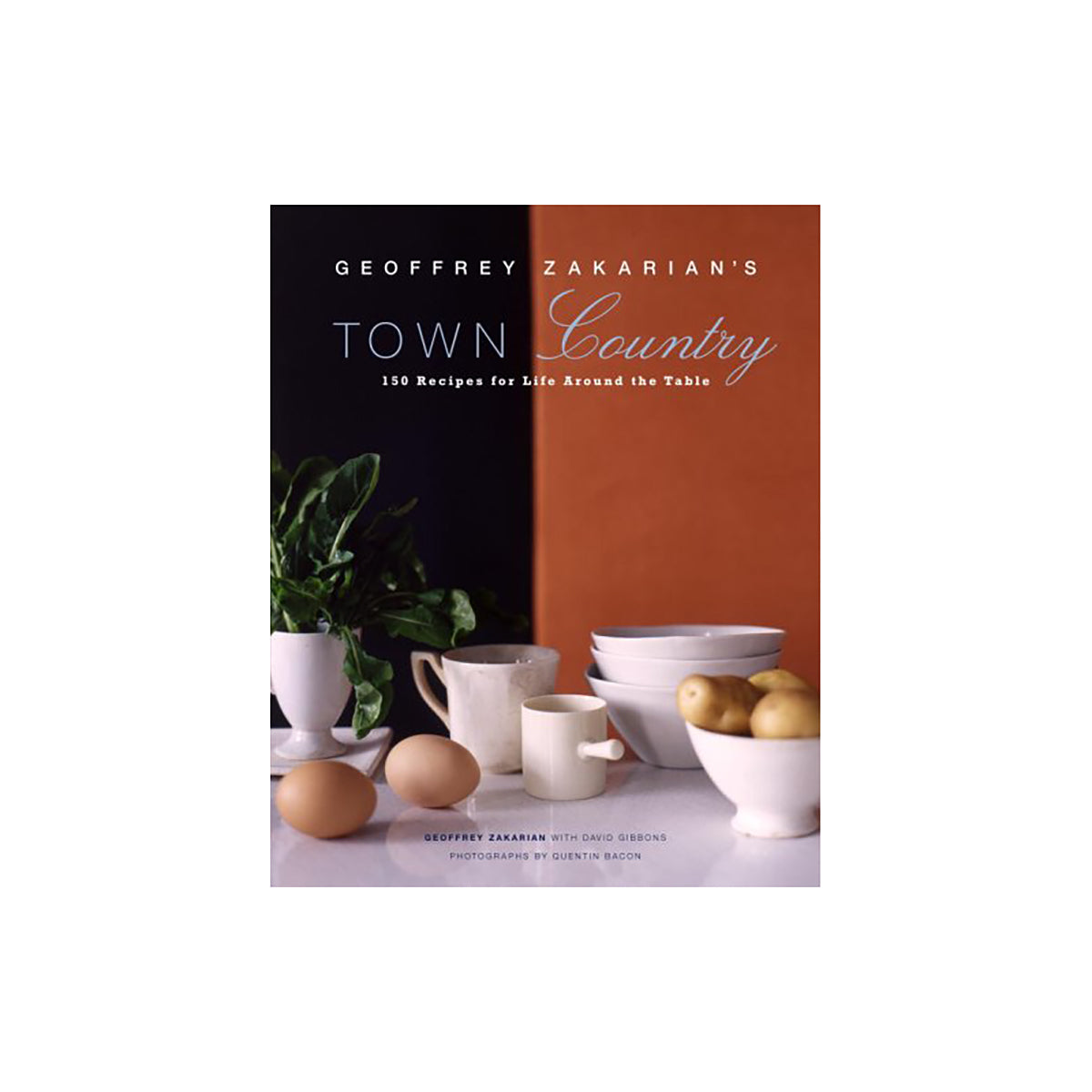 Zakarian
Town/Country - Baker's Dozen Bundle (Signed)
$450.00
Includes 13 signed copies of Town/Country by Geoffrey Zakarian.
For every home cook who wanders the aisles of the local supermarket asking the question "What do I want to cook for dinner?," celebrated chef Geoffrey Zakarian—owner of the highly acclaimed restaurants Town and Country in New York City—offers two sublime recipes for each of his sixty-five favorite ingredients.
Whether it's just-in-season asparagus, a gorgeous steak beckoning from the butcher's case, or the sweetest August corn that catches your eye, Zakarian helps you turn it into a quick weeknight meal or Sunday supper—a Country recipe—or elegant Saturday-night dinner-party fare—a Town preparation.

Zakarian's inventive, flavorful creations for ingredients that run the gamut from the humble apple to luxurious lobsters include:

TOWN— Ribeye Steaks with Wilted Watercress and Romaine Marmalade
COUNTRY— Grilled Flank Steak with Smoked Barbecue Sauce

TOWN— Arugula Cannelloni with Chanterelle Sauce
COUNTRY— Ziti with Arugula Pesto and Crispy Prosciutto

TOWN— Poached Salmon Tartare with Avocado, Fennel, and Vinaigrette
COUNTRY— Grilled Salmon with Smashed Cucumber–Date Salad

TOWN Liquid Gold Chocolate Tart
COUNTRY— Deep Dark Chocolate Pudding

Featuring stunning full-color photographs and an approach that is at once familiar and fantastic, comfortable and creative, Geoffrey Zakarian's Town/Country pre-sents the perfect combination for amateur to ambitious American cooks.

From Acorn Squash to Zucchini—150 recipes arranged by ingredient to fit your pantry and your mood.
Hardcover: 272 pages
ISBN: 9781400054688
Size: 8.4" x 0.89" x 10.34"