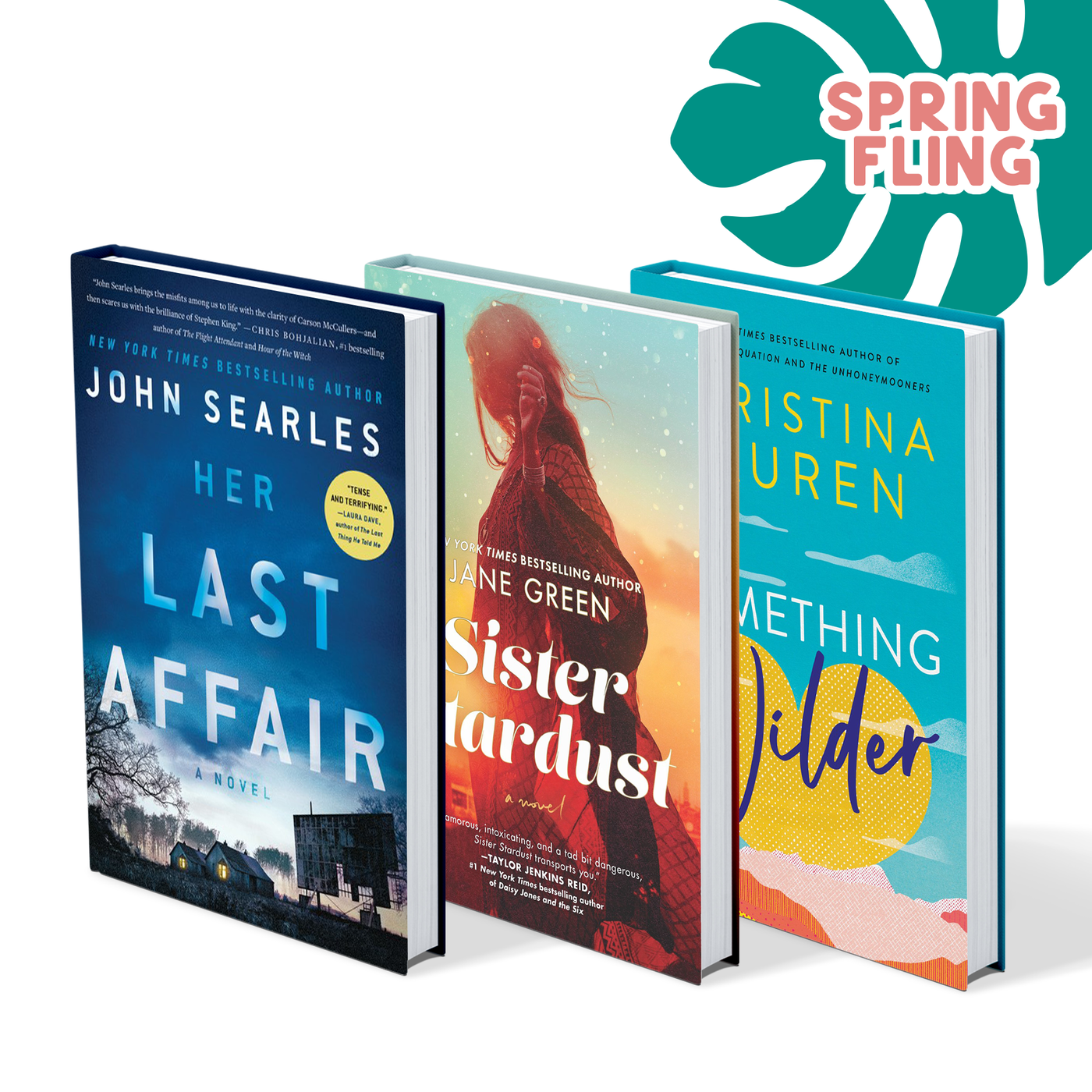 Harper Collins
Spring Fling Book Subscription Box
$95.00
New York Times bestselling authors John Searles, Jane Green, and Christina Lauren have written three of the most anticipated books of Spring 2022. Here is your opportunity to be among the very first to read these books and to obtain exclusive extra swag and virtual event access available only to those who subscribe!
Your one-time purchase of $95 includes:
Her Last Affair by John Searles (March 22)
Sister Stardust by Jane Green (April 5)
Something Wilder by Christina Lauren (May 17)

A Spring Fling Notebook and Bookmark

Exclusive access to a live-streamed virtual event with all three authors in May.
Books will be shipped by their publication date. Shipping is included.
---
From the bestselling author of Help for the Haunted and Strange but True, a new novel of character-driven psychological suspense that intertwines three people hoping to rediscover love and reconnect with their past, to deadly effect.
Every marriage has its secrets….
Skyla lives alone in the shadow of the defunct drive-in movie theater that she and her husband ran for nearly fifty years. Ever since Hollis's death in a freak accident the year before, Skyla spends her nights ruminating about the regrets and deceptions in her long marriage. That is, until she rents a cottage on the property to a charming British man, Teddy Cornwell….
A thousand miles away, Linelle is about to turn fifty. Bored by her spouse and fired from her job when a questionable photo from her youth surfaces on social media, her only source of joy is an on-line affair with her very first love, a man she's not seen in nearly thirty years, Teddy Cornwell…
While in New York City, Jeremy, a failed and bitter writer, accepts an assignment to review a new restaurant in Providence. Years ago, Providence was the site of his first great love and first great heartbreak—and maybe, just maybe, he'll look her up when he's back in town…
Part page-turning thriller, part homage to film noir, and dazzling in its insight into the often desperate desires of the human heart, Her Last Affair is a tense and atmospheric novel of love lost and found again.
ISBN: 9780060779658
Hardcover: 336 pages.
Size: 9" x 6" x 1.1"
---
In her first novel inspired by a true story, New York Times bestselling author Jane Green re-imagines the glamorous and tragic life of fashion icon and socialite Talitha Getty, for fans of Taylor Jenkins Reid and Paula McClain.
Claire grew up in a small town, far from the glitz and glamour of London. Ridiculed by her stepmother Linda, and harboring a painful crush on her brother's best friend, she has begun to outgrow the life laid out before her. On the cusp of adulthood in the late 1960s, Claire yearns for the adventure and independence of a counter-culture taking root across the world.
One day a chance encounter leads to an unexpected opportunity. Whispers of a palace in Morocco. A getaway where famous artists, models, fashion designers and musicians--even the Rolling Stones--have been known to visit.
When Claire arrives in Marrakesh, she's swept up in a heady world of music, drugs and communal living. But one magnetic young woman seems to hold sway over the entire scene. Talitha Getty, socialite wife of the famous oil heir, has pulled everyone from Yves Saint Laurent to Marianne Faithfull into her orbit. Yet when she meets Claire, the pair instantly connect. As they grow closer, and the inner circle tightens, the realities of Talitha's precarious life set off a chain of dangerous events that could alter Claire's life forever.
Bestselling author Jane Green's first work of biographical fiction breathes new life into a complicated fashion icon and the tumultuous world she inhabited. Page-turning, lush and luminously drawn, Sister Stardust is a transporting journey through a forgotten chapter of the swinging 60s by a beloved writer at the top of her game.
ISBN: 9781335425782
Hardcover: 304 pages.
Size: 9.2" x 6.3" x 1"
---
The "reigning romance queens" (PopSugar) and New York Times bestselling authors of The Soulmate Equation and The Unhoneymooners present a charming and laugh-out-loud funny novel filled with adventure, treasure, and, of course, love.
Growing up the daughter of notorious treasure hunter and absentee father Duke Wilder left Lily without much patience for the profession…or much money in the bank. But Lily is nothing if not resourceful, and now uses Duke's coveted hand-drawn maps to guide tourists on fake treasure hunts through the red rock canyons of Utah. It pays the bills but doesn't leave enough to fulfill her dream of buying back the beloved ranch her father sold years ago, and definitely not enough to deal with the sight of the man she once loved walking back into her life with a motley crew of friends ready to hit the trails. Frankly, Lily would like to take him out into the wilderness—and leave him there.
Leo Grady knew mirages were a thing in the desert, but they'd barely left civilization when the silhouette of his greatest regret comes into focus in the flickering light of the campfire. Ready to leave the past behind him, Leo wants nothing more than to reconnect with his first and only love. Unfortunately, Lily Wilder is all business, drawing a clear line in the sand: it's never going to happen.
But when the trip goes horribly and hilariously wrong, the group wonders if maybe the legend of the hidden treasure wasn't a gimmick after all. There's a chance to right the wrongs—of Duke's past and their own—but only if Leo and Lily can confront their history and work together. Alone under the stars in the isolated and dangerous mazes of the Canyonlands, Leo and Lily must decide whether they'll risk their lives and hearts on the adventure of a lifetime.
From the author of the "heartfelt and funny" (Publishers Weekly) sensation The Unhoneymooners, this page-turning adventure full of second chances, complicated relationships, and the breathtaking beauty of the American Southwest will take fans on one wild ride.
ISBN: 9781982173401
Hardcover: 384 pages.
Size: 9" x 6" x 0.9"